21st Century energy demands mean that the electricity transmission and distribution network capacity is pushed hard. Low Pressure Oil Fluid Filled (LPOF) cables have been installed around the world since the 1960's and many of those still in the ground are well past their typical design life of 30 years! As a consequence of their age and decreasing availability of labour to carry out preventative maintenance, these cables regularly suffer from oil leakage.
The Drallim Oilmon System provides a cost effective remote condition monitoring system that helps providers make the best use of their assets. Early warning of system leakage through performance analysis enables cost effective maintenance schedules to be developed.
OILMON equipment can be easily retro-fitted to complement or replace existing legacy installations. All asset and ambient measured parameters are combined to construct a true picture of how the cable is coping with strains imposed by customer load and the environment.
System features
Designed for HV environments
High measurement accuracy
-20 to 55ºC operation range
<200 measurement points/RTU
Autonomous RTU operation
Data logging at RTU and server
Direct DNP3 connectivity option
Wireless or pilot connected RTU
Continuous alarm checking
Leak detection algorithm
Web database application
Scheduled or 'ad-hoc' reports
Performance Indicators
Reduced cable oil usage
Manual gauge reading eliminated
Daily pressure data available
Advanced leak trend warning
Avoidance of major incidents
Visibility of cable loading effect
Tank pressure optimisation
Improved maintenance efficiency
Years of historic data records
Improved Environmental profile

WebView
WebView provides Internet access to your asset performance data. You can view data graphs of recent and past events with the simple use of a web browser. Information such as 'falling' and 'low' alarms and algorithm detected slow oil leaks are highlighted. You can create reports and archive reading history.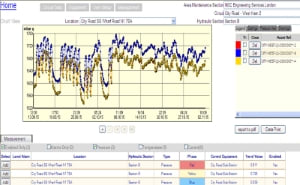 Predictive monitoring
Comparative pressure calculations enable leaky cables to be identified. Leak detection sensitivity is configurable. Preventive measures can be taken weeks in advance of potential cable insulation breakdown.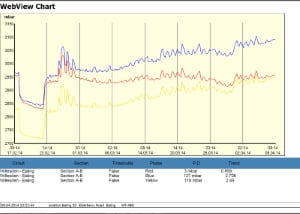 Cable pumping records
Once a problem cable section has been identified, PFT techniques can be used to locate the leak. This graph illustrates a PFT loading procedure where oil is removed from tanks and replaced with a locating agent and then re-pressurised.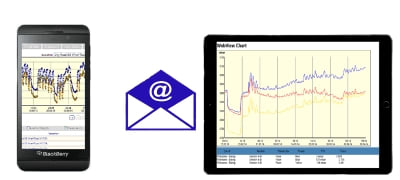 Status delivery
OILMON offers a range of alarm and performance report methods for the timely delivery of critical alarms and validated incidents records.
Control Equipment
Used to collect data from monitoring transducers and relay it to the system server. Responsible for alarm management.
Transducers
A range of specially constructed and calibrated low power ultra-stable instruments suitable for use in harsh environments.
OILMON, Drallim's comprehensive monitoring system for oil filled cables, provides users with real time and historical information for leak detection and alarm indication. This is achieved by the remote monitoring of cables via several distributed sensors (RDT's), which measure oil pressure, temperature and electric current as well as ambient temperature, ground temperature and atmospheric pressure. This data is stored on the system server for access by the WebView browser application which presents the user with various graphical trends and tabulated information. From the measured data, various aspects of a cables condition can be determined. Early warning of oil leaks is highlighted, determined from loss of pressure that is detected by the divergence alarm facility.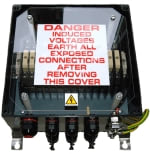 Pilot Cable Marshalling Box
The function of this is to provide an interconnection point between transducers and their pilot pair. It conforms to IP65 or IP68 (3m immersion) and is for use in pillar and pit installations.
Pressure RDT's
Pressure RDT's are available for measurement of atmospheric or hydraulic pressure. Each one of these is an addressable 2-wire transducer to IP68, 0-7 Bar range, of high accuracy to 0.1% fsd over the full pressure and temperature calibrated range. It has 15kV induced voltage protection. The hydraulic model can be retrofitted to existing gauge cabinets.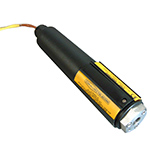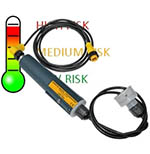 Temperature RDTs
Temperature RDT's are available for measurement of cable ambient and ground temperatures. Each one of these is an addressable 2-wire, polarity independent transducer to IP68, -10ºC to +55º C range of high accuracy to ± 0.1ºC. It has 15kV induced voltage protection.
Current RDT
Each one of these is an addressable, two-wire, polarity independent transducer to IP68 with a 0-20mA i/p. The o/p is of Drallim proprietary Protocol. One transducer to be used per phase.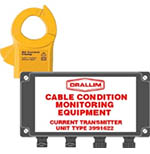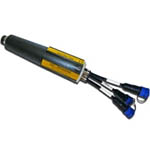 Contact monitor RDT
The Drallim Contact Monitor transducer provides 3 separate volt-free contacts which can be easily deployed to monitor, record and annunciate remote plant or equipment access, as well as environmental conditions such as water levels in roadside kiosks, pits basements or substation housing. Each Contact Monitor is an addressable 2-wire transducer to IP68 c/w 15kV induced voltage protection.
Isolation Unit
This provides high voltage isolation and protection between the MCU and the pilot pairs (15kV). Isolation is provided independently for ac signals and for dc transducer power on each pair.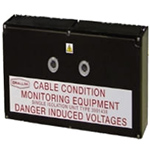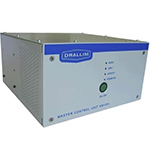 RTU
This Remote Monitoring Unit incorporates the RTU (Master Control Unit) and modem for sub-station installation. It receives the multiplexing signals from RDT's via a pilot pair, addressing and reading of transducers, alarm processing and reporting. It has a Serial port for local interrogation and optional digital outputs.
Cable Oil Isolator
This isolator is used to interconnect the insulation oil contained within a high voltage cable to a pressure gauge system used for the measurement of the oil pressure in the cable.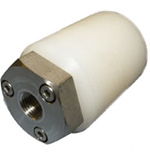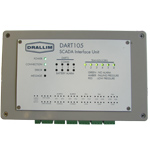 Scada alarm system
The DART 105/DART105 EX units are used in combination with up to 4 DART 110 wireless control units to provide hardwired SCADA connections (typically at a substation) for falling/low pressure alarms in addition to system fail, loss of GPRS signal, no communication from the DART 110 and DART 110 low battery alarms.